Drumroll, please … USB! But it's not your ordinary USB: SanDisk has released its "SanDisk Connect Wireless Flash Drive." Here are a few of its features:
Wirelessly store, share, and stream movies, photos, music, and documents across your smartphones, tablets, and computers.
Simultaneously connect and access data stored on up to eight devices via Wi-Fi.
Works for up to four hours of video streaming on a single charge.
Use a free app (compatible with iOS 5.0 or later, Android 2.3 or later, and Kindle devices) to connect without an Internet connection, cables, or router; works on all Wi-Fi enabled devices.
Access also available through an Internet browser, compatible with all Wi-Fi enabled devices.
Charge and access with USB 2.0 connection interface or higher.
Uses optional Wi-Fi password protection and 128-bit AES encryption.
16GB $49.99
32GB $59.99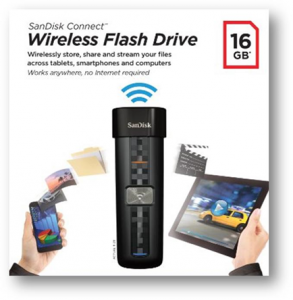 Christine Phipps, RPR, is an agency owner in West Palm Beach, Fla., and a member of NCRA's Technology Review Committee.